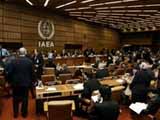 European Union foreign ministers said Monday that they were running out of patience with Iran over its nuclear programme, but that they would wait for the United Nations Security Council to decide on sanctions before they took action.
EU states fear that Iran is using its uranium enrichment programme to develop an atomic bomb, but they say that sanctions would only work if other major world powers, such as China, joined them under the UN's auspices.
"We can't accept any more time-wasting. We are worried, and I think the (UN) Security Council has to discuss this," Italian Foreign Minister Franco Frattini said as he arrived for a meeting with his EU counterparts.
Two weeks ago, Iran confirmed to the International Atomic Energy Agency (IAEA) that it had ramped up its uranium enrichment programme, in a move which outraged Western observers.
The latest IAEA report is "extremely worrying" and European states are now "in a position where even patience runs out," Germany's deputy foreign minister, Werner Hoyer, said.
EU foreign ministers in January debated what extra sanctions they could introduce if the UN were to ask for them, but left it to the New York-based body to make the first move - a stance they repeated on Monday.
"I don't want to undercut the discussions going on in the UN at the moment, because it's only by having an agreement with everyone ... including players like China, Brazil, India and Turkey that you can have an impact," Swedish Foreign Minister Carl Bildt said.
/
Trend News
/