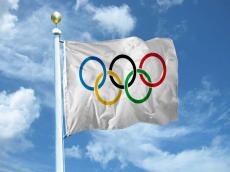 The International Olympic Committee (IOC) will not allow Russian athletes to participate in international competitions with their national flag and anthem, the organization's press service said on Tuesday.
On February 25, President of the Russian Olympic Committee (ROC) Stanislav Pozdnyakov said he strongly disagreed with any restrictions, additional requirements and sanctions related to the national identity of Russian athletes.
"The sanctions against the Russian and Belarusian State and Governments are not negotiable. They have been unanimously confirmed by the recent Olympic Summit meeting on 9 December 2022. They are: No international sports events being organised or supported by an IF or NOC in Russia or Belarus. No flag, anthem, colours or any other identifications whatsoever of these countries being displayed at any sports event or meeting, including the entire venue," an IOC spokesperson said.
"No Russian and Belarusian Government or State official should be invited to or accredited for any international sports event or meeting," the spokesperson added.