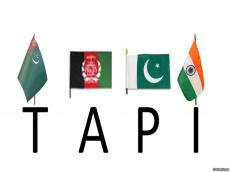 By Azernews
By Kamila Aliyeva
Turkmenistan is close to the successful completion of the search for funds to finance the construction of the TAPI pipeline, chairman of the consortium TAPI pipeline Company Limited Muhammetmyrat Amanov said.
He was speaking at the meeting of the 9th International Gas Congress which began its work on May 23, Reuters reported.
The financing will be successfully completed in the third quarter that is in the next three to four months, according to Amanov.
The company is negotiating with several credit agencies, including Italian SACE, French Hermes and Greek ECIO, he noted.
The head of the consortium did not specify how much money had been collected, nor did he mention possible problems related to the pipeline's security.
The construction of the Turkmen section of the TAPI was launched in December 2015. Work on the Turkmen section is complete while work on the Afghanistan section of the pipeline project started earlier this year in Herat – in the west of the country.
The pipeline will run from Galkynysh – the largest gas field in Turkmenistan – through the Afghan cities of Herat and Kandahar, and finally reach the Fazilka settlement located near the India-Pakistan border.
The total length of the pipeline is 1,814 kilometers, including 214 kilometers in the territory of Turkmenistan, 774 kilometers in Afghanistan, 826 kilometers in Pakistan to the settlement of Fazilka on the border with India. The construction of the gas pipeline is scheduled to be completed in 2019. Annual capacity of the gas pipeline will be 33 billion cubic meters.
The project's preliminary cost is estimated at $10 billion. For the construction of the TAPI gas pipeline, a consortium - TAPI Pipeline Company Limited - was established and the state concern Turkmengaz was elected as the leader.
The main problems for the project's implementation largely considered to be financing and security issues as the pipeline is to pass through the territory of Afghanistan.