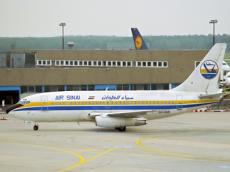 Around 32 international airlines, including three American airlines, have decided to suspend their flights to Ben Gurion Airport on the background of what these airlines see as deteriorating security conditions in the country, Anadolu agency reported.
The decision of the airlines comes hard on the heels of a Wednesday recommendation by the European Aviation Safety Agency that airlines refrain from flying to Tel Aviv.
The U.S. Federal Aviation Administration on Wednesday extended its prohibition against U.S. flights to Israel's Tel Aviv airport for a second day.
A wide range of other international airlines, including Lufthansa and the Turkish Airlines, also on Wednesday extended by 24 hours their ban on flying to Ben Gurion Airport.
Ben Gurion is, according to the Israeli Airports Authority, the largest airport in Israel and also the most crowded all through the year.
The authority says around 11 million people travel from or to the airport every year.
Around 80 percent of Israel's international flights leave Israel from Ben Gurion Airport, while other airports in the country are only used in case of Ben Gurion overcrowding.
On Thursday, some new international airlines decided to join the flight suspension to Ben Gurion Airport because of deteriorating political conditions in Israel, Israel's Channel 10 said.
This is the first time such a large number of international airlines suspend their flights to the Middle East in 13 years or more accurately since the first Gulf war in 1991 when around 20 international airlines suspended their flights to the region.
On Wednesday, Germany's main carrier, Lufthansa, said it had not received new information that could justify a resumption of its flights to Israel.
Around 20 Lufthansa flights should have headed to Israel from different European cities, including Frankfurt, Munich, Vienna and Brussels, on Thursday.
The private Egyptian airlines Air Sinai decided on Wednesday to cancel out a flight scheduled for Thursday to Tel Aviv because of deteriorating security conditions in Israel.

/Trend/