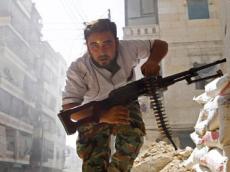 The Obama administration asked the U.S. Congress Thursday to authorize $500 million to train and equip moderate elements in the armed Syrian opposition.
National Security Council spokeswoman Caitlin Hayden said that the money would go to vetted Syrian rebels.
"This request marks another step toward helping the Syrian people defend themselves against regime attacks, push back against the growing number of extremists like ISIL who find safe-haven in the chaos, and take their future into their own hands by enhancing security and stability at local levels," Hayden said in a statement.
She added that the U.S. does not believe that there is a military solution to Syria's conflict, now in its fourth year.
An additional $1 billion will be used to help stabilize Syria's neighbors, including Turkey, Jordan, Lebanon and Iraq, as they cope with the fallout from Syria's crisis.
Both the stabilization initiative and arms and training program are part of the administration's overseas operations budget request.

/Trend/