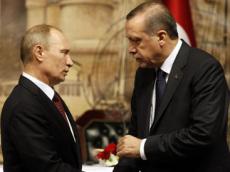 Turkish Prime Minister Recep Tayyip Erdogan urged Russian President Vladimir Putin to exercise caution so that Crimean Tatars are not hurt from the crisis in Ukraine, Today's Zaman reported.
Erdogan reportedly told Putin that Turkey attaches much importance to Crimean Tatars' security as the crisis in Ukraine unfolds.
Erdogan and Putin discussed bilateral cooperation on trade and energy in a 25-minute phone conversation and exchanged views about the latest developments in Ukraine.
Erdogan recalled that he hosted leader of Crimean Tatars Mustafa Jamil in Ankara on Wednesday and highlighted the importance of dialogue between the parties.

/Trend/