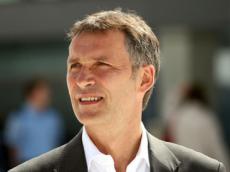 NATO Secretary General Anders Fogh Rasmussen said Norway's former Prime Minister Jens Stoltenberg is to succeed him as new chief of the military alliance in October.
The appointment comes at a critical time for the alliance, with the crisis in Ukraine suddenly making NATO more relevant in Europe.
Fogh Rasmussen is to step down after a NATO summit in Wales later this year, and the past weeks had seen feverish diplomatic activity as some member states sought to push their candidate into the top political job of the 28-nation military alliance.
"Warm congratulations" Rasmussen said in a Twitter message on Friday to his fellow Scandinavian politician.
A two-time Norwegian prime minister, Stoltenberg became a recognisable face on the international scene with his dignified response to the twin attacks that killed 77 people in his country in July 2011.
His coalition suffered a year later when an independent inquest into the bomb and gun attacks by Anders Breivik found a litany of failures by police and security services that might have disrupted or even prevented the massacre.
By September 2013, Stoltenberg's coalition government had been ousted by a combination of conservatives and populists as the Norway tilted right.
In the run-up to the vote, the prime minister donned a taxi driver's uniform and took passengers around the capital as part of an unusual election campaign stunt.
A video that his Labour Party posted on social media shows the candid camera-like moments when passengers realise the man behind the wheel is Stoltenberg.

/Al Jazeera/