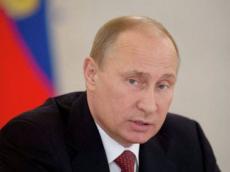 Russia and Crimea have signed an agreement on Crimea as well as Sevastopol city joining the Russian Federation, RIA Novosti reported on March 18.
The agreement was signed by Russian Federation President Vladimir Putin, Crimea Supreme Council's Head Vladimir Konstantinov, the republic's Prime Minister Sergei Aksenov and Sevastopol City Council Chairman Alexei Chaly.
After the ceremony of signing the anthem of the Russian Federation was played.
The vast majority of residents of Crimea - 96 percent - voted to secede from Ukraine and join Russia, in a referendum held March 16.
Most countries refused to recognize the referendum's results.
A change of power took place in Ukraine on Feb.22.
The Verkhovna Rada (parliament) of Ukraine ousted President Viktor Yanukovych from the power, changed the constitution and scheduled presidential elections for May 25.
Yanukovych said he was forced to leave Ukraine under the threat of violence, and he remains the legally elected head of state.
A number of provinces in eastern and southern Ukraine, as well as the Crimea did not recognize the legitimacy of the Rada and decided on possibility of holding a referendum on the future fate of the regions.
/Trend/