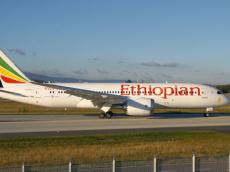 At 5:00pm Pacific Time, Ethiopian Flight 702, a Boeing 767-300 (registered ET-AMF) was flying over Sudan when it started squawking 7500. The transponder code, is supposed to indicate a "hijacking.", Airlinereporter reported.
Sometimes, pilots accidentally switch to this code or equipment malfunctions. This however, does not appear to be the case. The aircraft can be tracked live via Flightradar 24.
This was hopefully just an error, but this was certainly a deviation from normal flight.
We have reached out to a source who is an aircraft electrical expert and they confirmed that a "7500? code can't come from a glitch.
The flight, operating from Addis Abba to Rome has been confirmed by Rome Airport not to have arrived yet. It is currently circling over Geneva Airport (GVA), with a military escort. Emergency crews are standing by a GVA.
A hijacked aircraft landed at Geneva's international airport early on Monday, an airport spokesman said without giving details of the flight, Reuters reported.
Ethiopian Airlines said in a statement that one of its flights had been "forced to proceed" to Geneva, adding that all passengers and crew were safe at the airport.

/Trend/