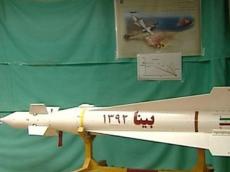 The Iranian Defense Ministry announced on Monday that it has successfully tested two new missiles, including a laser-guided surface-to-surface and air-to-surface missile and a new generation of long-range ballistic missiles carrying Multiple Reentry Vehicle payloads, Fars News reported.
The ministry said it has successfully tested a new generation of long-range ballistic missiles with Multiple Reentry Vehicle payloads and a laser-guided air-to-surface and surface-to-surface missile named Bina.
The missiles were test-fired on the eve of the 35th anniversary of the victory of Iran's 1979 Islamic Revolution to mark the occassion.
Speaking during the ceremony, Iranian Defense Minister Brigadier General Hossein Dehqan noted that Bina missile is laser-guided and can be fired from aircraft and different ground launch platforms.
"This missile (Bina) is capable of precisely hitting important targets, including bridges, tanks, military hardware and command centers of enemies," the Iranian defense minister said.
He enumerated the high-speed in destroying the targets, easy maintenance and high-speed of operation as specifications of Bina missile.
The minister further noted Iran's newly developed ballistic missile with MRV payload, and said it has been designed and produced for destroying enemy's military hardware and all types of enemy military equipment.
"Evading enemy's anti-missile defense systems, the capability of destroying massive targets and destroying multiple targets are specifications of this missile," the Iranian defense minister said, but did not name the new weapon.

/Trend/