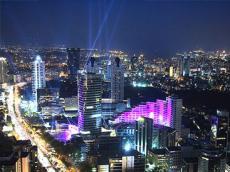 The largest tourist complex in Turkey called Tuzla Viaport Marine is being built in Istanbul, the city's mayor Kadir Topbas was quoted saying on Feb. 7 by Turkish newspaper Sabah.
The complex will annually receive 25 million tourists and staffing will reach 2500.
The Istanbul mayor also stressed that 270 million Turkish liras were allocated for the tourist complex construction project. Some 31 million foreign tourists visited Turkey in 2013.
The country's income from tourism increased by 11.4 percent in 2013, amounting to $32, 32,424 billion compared to 2012, according to the Turkish Statistics Institute.
Around 78.9 percent of a total volume of revenue from the tourism sector was received from foreign tourists with 21.1 percent from Turkish citizens living abroad and visiting the country.
Around $24,836,789 billion fell to the share of revenue from individual tourism and $7,473,653 billion was income from group tourism in Turkey in 2013.

/Trend/