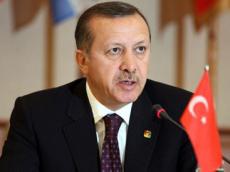 Turkey's Prime Minister Recep Tayyip Erdogan believes that the European Union (EU) has to take the necessary actions to stop the violence in Syria after a special report published on Monday exposed the torture and execution of around 11,000 detainees Anadolu News Agency reported .
"We are expecting a result from Geneva II peace talks in which Turkey's Foreign Minister Ahmet Davutoglu will attend. I think the result will be a vital one. If a result does not appear at the conference, then the participants will also have a responsibility [for the violence in Syria]," Erdogan said during a press conference with the Head of the European Parliament, Martin Schulz in Brussels on Tuesday.
The prime minister also stressed that Turkey is currently sheltering around 700,000 refugees, in contrast to EU countries which are sheltering 60,000.
"Turkey has spent over US$2 billion on refugees, including aid issued to the UN, in which it has donated US$130 million. Turkey is conducting these efforts with an open-door policy," Erdogan added.
"It is not possible that Russia, Iran and China can ignore the incidents in Syria and I hope for a positive result at the conference."
Meanwhile, talking about the developments in Egypt, Erdogan spoke about the West's indifference to the ousting of the elected President Mohamed Morsi.
In addition, he confirmed that Turkey's government has supported the Turkish Republic of Northern Cyprus's (TRNC) constructive attitude in finding a peaceful solution in the ongoing conflict.
"Greece, as a warrantor country, should support this process with the same attitude. Our basic principle is a federal structure that is based on two founder states. We cannot accept anything apart from that."
Erdogan said that the Greek Cypriot administration cannot represent the whole island, adding that there should not be any problem according to the EU acquis and moreover in Cyprus which is divided by the UN's green line. "The South side cannot represent Northern Cyprus, which is contrary to the acquis."
"Those who want to refer us to a different place will be in the wrong. They hinted for us to withdraw our troops. We assume that we have not heard such an offer."
Speaking about the Shanghai Cooperation Organization, Erdogan said, "Everything is on the agenda for us. The EU has made Turkey wait at the door for 51 years and we will go on if we reach a result, but if we don't, this may push us into other seekings. That's why, we take steps where we obtain results. Turkey is an independent state which makes decisions on its own."
The Head of the European Parliament, Martin Schulz expressed what Turkey does with Syria and Syrian refugees is appreciated and said that Turkey was one of the key partners of EU.

/Trend/