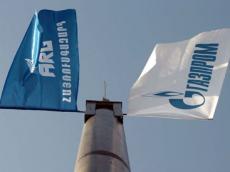 The Armenian government has approved the signing of an agreement on the sale of a 20 percent stake in ArmRosgazprom to the Russian company Gazprom at a meeting on Thursday, ARKA reported.
The Ministry of Energy is to deliver a package of ArmRosgazprom's ordinary registered shares worth 20.0007 percent to Gazprom. As a result, Gazprom's share in ArmRosgazprom will increase from 80 to 100 percent, according to the agreement.
The contract has been signed on the basis of an agreement signed by Armenian and Russian Presidents Serzh Sargsyan and Vladimir Putin on December 2, 2013, Deputy Minister of Energy and Natural Resources Iosif Isayan said.

/Trend/