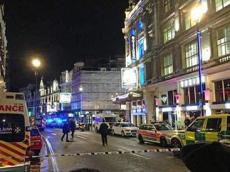 More than 80 people were injured on Thursday night when part of a theatre in London's West End collapsed on to the audience during a performance.
Fire crews rescued people from the Apollo theatre on Shaftesbury Avenue, which was showing The Curious Incident of the Dog in the Night-Time. There were more than 700 people in the audience.
London ambulance service said there were 88 casualties, seven of whom were seriously injured, but none are thought to have life-threatening injuries. The Metropolitan police said they were not aware of any fatalities.
Some people were initially trapped inside the theatre, but all were rescued from the building soon after the collapse.
The wounded were taken into the foyer of the nearby Queen's theatre, which was turned into a makeshift treatment centre. Some were taken from there to hospital on board a red London bus, with a police escort.
The collapse of part of the ceiling, which then brought down sections of a balcony, occurred at about 8pm. Part of the balcony started creaking before the collapse, and some audience members assumed that the noise was part of the show.
People were escorted out of the building covered in dust and debris, while others left crying, coughing and helping each other away.
Photographs from inside the theatre showed heavy beams and wood strewn across seats, which were coated in debris and dust. There were reports that after a storm earlier, water had begun dripping through cracks in the ceiling before it fell in, but this was not confirmed by authorities. A Westminster council surveyor was inspecting the building overnight to assess whether it was safe enough for a full inspection. The surveyor was expected to deliver a preliminary report on Friday morning.
/The Guardian/