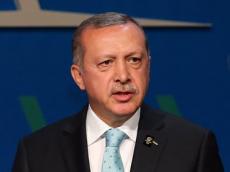 Dirty operations are being held in Turkey, Turkish Prime Minister Recep Tayyip Erdogan said, Anadolu agency reported on Dec.19.
Internal and foreign forces stand behind the operations that were being held in Turkey during two days, according to the prime minister.
The country's government will investigate the situation till the end, Erdogan said.
Turkish police have recently conducted special operations in Istanbul and Ankara, resulting in the arrest of 52 people that includes businessmen and sons of some ministers.
The businessmen are accused of corruption, smuggling and selling drugs.
Among those detained were the sons of some ministers, who are the members of Turkey's ruling party - Economy Minister Zafer Caglayan's son, Salih Kaan Caglayan and Interior Minister Muammar Guler's son Baris Guler, Minister for Urban Development and Environment Erdogan Bayraktar's son Oguz Bayraktar. All three were detained on suspicion of corruption.
Mayor of Istanbul's Fatih Municipality, Mustafa Demir, director general of Turkish Halkbank Suleyman Aslan and famous entrepreneur Ali Agaoglu were arrested during the same operation by police. Searches were conducted at Halkbank's office.
Senior police officers investigating a Turkish corruption scandal were dismissed on Dec.18.

/Trend/