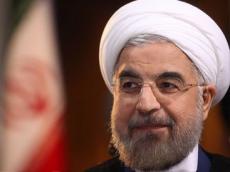 Iranian President Hassan Rouhani has reiterated Tehran's opposition to any military intervention in Syria, pledging political and humanitarian assistance to the crisis-hit country, Press TV reported.
"There is no military solution to the crisis in Syria, and restoring stability and peace in the friendly country of Syria is one of the objectives pursued by the Islamic Republic of Iran," Rouhani stated in a telephone conversation with his Syrian counterpart, Bashar al-Assad, late on Wednesday.
He also praised the Syrian government for foiling foreign war threats through full cooperation with the Organization for the Prohibition of Chemical Weapons (OPCW) and eliminating its entire chemical arsenal under OPCW supervision.
Rouhani further warned of the terrorist activities carried out by foreign-sponsored militants and Takfiri extremists in Syria as a threat not only to Syrians but also the whole region.
The Iranian president also voiced Tehran's concern over the aggravating conditions for Syrian refugees given the growing insecurity and the prospects of a winter cold snap.
"We will exhaust all our potentials to provide political and international assistance and humanitarian aid for the people of Syria," he vowed.

/Trend/