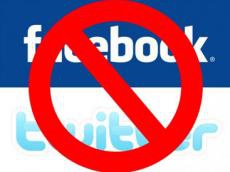 Iran will continue blocking Facebook and Twitter, the Iranian Minister of Information and Communications Technology, Mahmoud Vaezi said, ISNA news agency reported.
On September 9, Iranian media outlets quoted member of Iran's Committee on Internet filtering Mohammad Reza Aghamiri as saying that Iran may conditionally unblock Facebook.
"We should develop a smart filtering system for separating illegal and useful content on Facebook," Aghamiri said, adding that Facebook may be unblocked after that.
The Iranian authorities blacked out Facebook and Twitter in the summer of 2009, when ex-president Mahmoud Ahmadinejad's disputed re-election victory sparked massive protests that gained momentum with the help of organizers using social media.
Alongside Facebook, Iran has blocked access to many websites including You Tube.
Most users have found the ways to evade the state censors and get access to all sites via proxy tunnels and channels.
The number of internet users in the year which ended in March 2012 reached 32.7 million in Iran. The number of GPRS users amounts to 27.5 million, accounting for 36 percent of total internet users in Iran as of current year.
Some 867,000 people are using high-speed internet, and about 6 million people are using internet via an optical fiber network.
Since 2005, Iran has been developing a "national internet" to improve control over its content as well as speed.
The project, which is separate from the World Wide Web, was scheduled to be completed by 2013. This network will be separated from the rest of the internet which is specifically for domestic use.


/Trend/