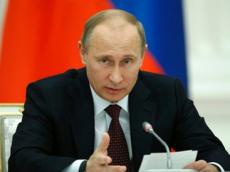 Iran has right to use nuclear energy in peaceful purposes, Russian president Vladimir Putin said at the Shanghai Cooperation Organization (SCO) summit, KyrTAG reported.
Putin went on to highlight Iran's transparency of its nuclear program, and underlined that Iran has the right to use its nuclear energy, and enrichment as well.
The Shanghai Cooperation Organisation or SCO is a Eurasian political, economic and military organisation which was founded in 2001 in Shanghai by the leaders of China, Kazakhstan, Kyrgyzstan, Russia, Tajikistan, and Uzbekistan.
Iran, along with India, Pakistan and Mongolia has the "observer" status in the organization.
The U.S. and its Western allies suspect Iran of developing a nuclear weapon - something that Iran denies.
The Islamic Republic has on numerous occasions stated that it does not seek to develop nuclear weapons, using nuclear energy for medical researches instead.
/Trend/