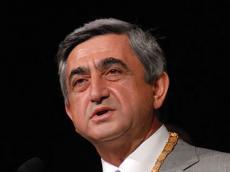 According to Armenian agency 1in.am, on September 11 Armenian President Serzh Sargsyan will meet with the ambassadors of the European Union member countriies in Armenia.
The meeting is organized on the invitaiton of Serzh Sargsyan.
According to the agency, the positions of the individual EU member countries and of the whole European Union in relation to Armenia in the future will be discussed.
After the Armenian President made the statement in Moscow that "Armenia wants to become a member of the Customs Union", senior officials of many EU countries and institutions made pretty strong statements, almost closing in front of Armenia the doors, wide open till now.
For this reason, Serzh Sargsyan will try to mitigate this position at the meeting with the ambassadors accredited in Yerevan.


/Trend/