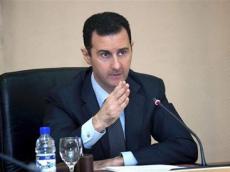 Western claims that the Syrian government used chemical weapons were "an insult to common sense," Syrian President Bashar al-Assad said in an interview with a Russian newspaper published Monday, Xinhua reported.
"Such accusations are political, and the reason for this was the series of victories by government forces over the terrorists," the Syrian president told Izvestia.
"We are accused that the army has used chemical weapons in an area that is under the control of the alleged gunmen," Assad said. However, he said government forces were also engaged in the area and there was no clear dividing line between the army and rebel militants.
"How can the government use chemical, or any other weapons of mass destruction, in a place where its troops are concentrated. This is contrary to elementary logic," Assad said.
The rebels, the United States and other Western nations claim Syrian forces killed more than 300 people in several suburbs of the capital Damascus last Wednesday, while the government has blamed the attack on the rebels.
The Syrian president accused the United States of making the accusations first and only later starting to look for proof. "How are they going to look for proof remotely?" Assad said.
The Syrian government demanded a probe by foreign experts after coordinating with Russia, Assad said, adding Damascus hoped Moscow would not let "some countries" interpret the experts' conclusions in favor of the United States and Western politics.
"We wanted to persuade the United States, France and Britain that our enemies, not we, use chemical weapons," Assad said.
As for some Western countries' ongoing preparation for a possible response to the alleged use of chemical weapons, Assad said it was not the first time the issue of military intrusion into Syria had been brought up.
"From the very start of the crisis, the United States, France and Britain have tried to carry out a military invasion, but unfortunately things took a different turn for them," he said.
The three countries tried in vain to persuade other nations to join them, after they "failed to convince their people and the whole world that the policy they pursued in the Middle East was clever and useful," he said.
The president also warned the United States of failure if it invaded Syria, "as in all previous wars waged by them, from Vietnam to the present day."
The U.S. president "was not able to convince his multi-ethnic people of the righteousness of the war, neither could he instill their ideology into other countries," he said.


/Trend/