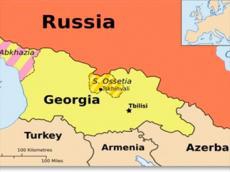 Source;
/AzerNews/
Georgia's Foreign Ministry expresses its concern at the decision of Russian Prime Minister Dmitry Medvedev on the creation of a transboundary protected area in the Abkhaz section of the Georgian-Russian border.
According to the Russian media, the establishment of the transboundary protected area will provide additional opportunities for the conservation of biological and landscape diversity, will contribute to scientific research, as well as environmental monitoring, and serve other purposes.
"This action of Russia is an attack on Georgia's sovereignty and territorial integrity which contradicts the fundamental principles of international law and international obligations," the ministry said in a statement.
Tbilisi noted that any agreement signed by Moscow with the de facto authorities of Abkhazia and the so-called South Ossetia is illegal under international law, because "Abkhazia and the Tskhinvali region are inseparable parts of the territory of Georgia."
"Russia's decision to create a reserve in the sovereign territory of Georgia is inadequate in view of the fact that Russia itself causes serious damage to the unique ecosystem of the region, transferring inert materials for the infrastructure of the Sochi Olympics to be held in 2014," the statement says.
The Georgian Foreign Ministry condemned the decision of Russia and called on Moscow to stop what it deems as destructive policy towards Georgia.
Earlier, Georgia expressed concern over the creation of barbwire and trenches along the border with Abkhazia and Tskhinvali, the capital of South Ossetia, by the Russian side.
Georgia and Russia, its giant northern neighbor, have maintained no diplomatic relations since a brief war in 2008. Tbilisi broke off relations with Moscow in August 2008 when Moscow crushed a Georgian assault to reassert control over two rebel regions -- South Ossetia and Abkhazia -- and later recognized the regions. Georgia announced the two unrecognized republics as occupied territories in September 2008.