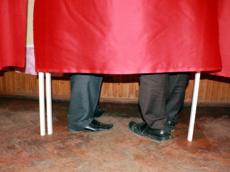 A 'Heritage' commission member has registered a case of ballot stuffing at the 29/24 Karadzor village polling station.
This process is being organised and backed by head of the village administration Araik Matinyan, spokesman for the party Hovsep Khurshudian told ARMENIA Today party.
Other members of the commission of this polling station refused to register the incident saying that they did not see it.
He added that they have already sent observers to this polling station.
The sixth Armenian presidential election will be held Feb.18 from 08:00 to 20:00 local time. The head of state is elected for five years.
Those running for the presidency are the incumbent president and ruling Republican Party leader Serzh Sargsyan, former Prime Minister Grant Bagratyan, chairman of the Heritage Party Raffi Hovhannisyan, Paruyr Hayrikyan, Arman Melikyan, Andrias Ghukasyan and Vardan Setrakyan.

/Trend/