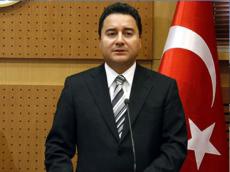 Turkey is a favorite for foreign investment, Deputy Prime Minister Ali Babacan said, Anadolu agency reported on Friday.
"Along with general economic growth, an increase has been observed in tourism as well," Babacan said.
He added that compared to previous years, Turkey expects about a five million dollar increase in revenue from tourism.
Foreign direct investment in the Turkish economy in January-November 2012 grew by 13 percent compared to the same period in 2011, reaching $ 8.9 billion, a report of Turkish Economy Ministry said.
According to the ministry, $727 million was directly invested in the Turkish economy in November of last year.
The bulk of investments were made by EU countries. Investments from these countries accounted for 75.2 per cent of the total volume of investments.
In January-November 2012, most investments were made in the manufacturing industry. Investments in manufacturing rose by 21 percent compared to the same period in 2011 hitting four billion dollars.
The information published on the website of the Culture and Tourism Ministry said that the number of foreign tourists visiting Turkey in 2012, increased by 12.43 per cent compared to the same period the year before, reaching 32.4 million people.
/Trend/