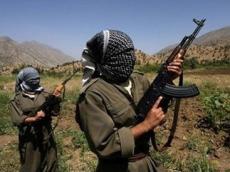 Turkish Army launched a scaled operation against militants of the terrorist Kurdistan Workers' Party in Midyat town of Mardin province, Habertürk online newspaper reported on Tuesday.
Helicopters, armored vehicles and fighter jets are involved in the operation. No report is available about killed terrorists yet.
The conflict between Turkey and the PKK has lasted for over 25 years. The PKK is recognised as a terrorist organisation by both the UN and the EU.
/Trend/