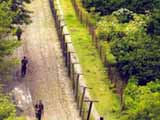 Over 100,000 people illegally cross Turkey's territory every year for further illegal migration to Europe and the U.S., the Haber7 online newspaper reported on Thursday.
The main route of illegal migration from countries of Asia, the Middle East and Africa passes through Turkey.
Those engaged in illegal transit of migrants in Turkey earn more than $7 billion in this "business" annually.
Over the past three years about 830,000 illegal migrants have been detained in Turkey, the newspaper reported.
/
Trend
/