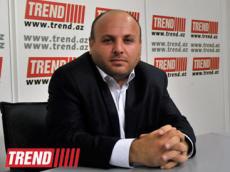 Iranian President Mahmoud Ahmadinejad made a surprise announcement on Tuesday about the lack of budgeted government funds and as a result the impossibility to allocate a budget for many organizations. This statement of Ahmadinejad was received ambiguously both at home and abroad.
Western countries consider new sanctions effective enough to suspend Iran's nuclear program in June last year during the imposition of sanctions on oil and the banking system of Iran. The recent statement of Ahmadinejad, at first glance, gives the impression that the sanctions actually affected Iran. In particular, the decline of the national currency by two times in recent months clearly shows the influence of sanctions.
Iranian Parliament Speaker Ali Larijani told reporters last week that the sanctions account for only 20 percent of the problems and that the other 80 percent, which have arisen in the economic sector of the country, were due to problems in the governance of the country.
But Ahmadinejad, in contrast to the position he has occupied before (various performances of failure to provide the pressure of sanctions on the country), said for the first time that the statements of Larijani are unfounded and confirmed the impact of sanctions on the Iranian economy during a press conference held last week.
Iran has been producing oil for 103 years. Former deputy minister of oil during the first presidency of Mahmoud Ahmadinejad Akbar Turkan said oil revenues amounted to $531 billion during the seven-year presidency of Ahmadinejad's (2005-2011), and it is half the oil revenues that the country received from the sale of oil for 103 years.
According to the annual report of OPEC Iran's oil revenues amounted to more than $500 billion during 2005 - 2011.
At the same time the report of the International Monetary Fund indicated that the economic development of Iran decreased by 9 percent in 2012 compared to last year and the inflation rate amounted to more than 25 percent.
In addition, the market liquidity increased by six times and reached 4 000 trillion rials during the last seven years. If the exchange rate of Iranian rial against foreign currencies amounted to 10, 400 riyals in the beginning of 2010, then this figure reached 35,000 riyals in the free market. All this demonstrates the failure of Ahmadinejad's administration in the economic sphere.
Above all, the development of Iranian economy was at 2 percent and inflation has exceeded 20 percent in 2011, before the Europe and the U.S. imposed new economic sanctions against Iran.
Tamkin Jafarov
/
Trend
/