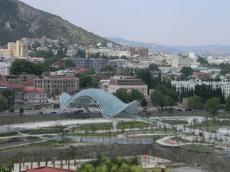 Georgian government has determined the number of people, who will hold consultations on transfer of power with representatives of election winning Georgian Dream coalition, the state office of National Security Council secretary Giga Bokeriya reported at a briefing on Thursday.
In his words, the group will consist of the parliament speaker David Bakradze, Tbilisi governor Gigi Ugulava and head of parliament Committee on juridical issues Pavle Kublashvili and himself.
Reportedly, Georgian Dream has also determined its representatives for consultations with the government - David Usupashvili, Irakli Alasaniya and Irali Garibashvili.
Bokeriya has called upon Georgian Dream not to intrude into work of election administration and not to pressurize members of election commission, as this could negatively impact Georgia's image after democratically held elections.
/
Trend