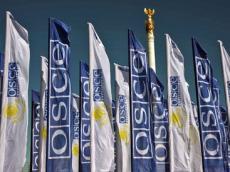 The OSCE continues to support the Geneva talks on preventing tension in the Caucasus, as it is the only format in which all of the parties to the conflicts in Georgia are presented, OSCE Secretary General Lamberto Zanner said at a joint press conference with Foreign Minister of Georgia.
"The OSCE is interested in resolving the conflicts in Georgia, which will provide greater stability in the region and establish a relationship between the parties to the conflict," he said.
Zanner said that OSCE intends to take several steps to improve the situation of internally displaced persons.
"Georgia is very important for the OSCE, and we make every effort to help your country," he said.
Vashadze, in turn, said Georgia wants to restore the OSCE mission in the country, however, Russia opposes that.
"In this regard the resolution in support of Georgia adopted by the OSCE Parliamentary Assembly is very important and I think that such resolutions, if not today - tomorrow will allow to restore the OSCE mission in Georgia in the near future," Vashadze said.
The Geneva talks were convened after the armed conflict in Georgia in August 2008, in accordance with the Ceasefire Agreement dated Aug.12.
Military actions were launched in the Georgian region of South Ossetia on Aug.8, 2008. Later Russian troops occupied the city of Tskhinvali and drove the Georgian military back. Russia recognised the independence of Abkhazia and South Ossetia in late August.
In response, Tbilisi broke off diplomatic relations with Moscow and announced the two unrecognised republics as occupied territories.
/
Trend
/