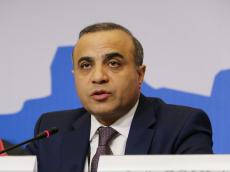 By  Trend
Azerbaijani MP, vice president of the OSCE Parliamentary Assembly (OSCE PA) Azay Guliyev expressed his gratitude to Chairman of the OSCE PA's Sub-Committee on the Rules and Procedure, Vice-President of the organization Lord Peter Bowness, Trend reports on Dec. 6.
In his report Bowness touched upon the importance of resolving the protracted conflicts in the OSCE region.
However, Guliyev protested that in the report the conflict existing in Azerbaijan's territory is called the Nagorno-Karabakh conflict.
He added that it is very important to change the name of the conflict between Armenia and Azerbaijan.
"It is wrong to call the conflict that continues between the two countries as the "Nagorno-Karabakh conflict" from a political, legal or geographical point of view," he said. "Nagorno-Karabakh region is an integral part of Azerbaijan. Armenia has been occupying this territory, as well as seven adjacent areas which are not related to Nagorno-Karabakh region."
"It is more correct to call the conflict "the Armenia-Azerbaijan Nagorno-Karabakh conflict"," Guliyev added. "For this reason, the presidents of Armenia and Azerbaijan have been holding the negotiations on the peaceful settlement of the conflict for many years. So, I would like this mistake to be corrected and the conflict to be indicated in the OSCE PA's further documents as the 'Armenia-Azerbaijan Nagorno-Karabakh conflict'. This correction is important to curb many abuses and political manipulations."
OSCE PA President George Tsereteli, Vice President Lord Peter Bowness and Secretary General Roberto Montella agreed with Guliyev's comment and said that they will take that into account in the future.
While speaking at a meeting of the Council of Ministers, Tsereteli used the term "Armenia-Azerbaijan Nagorno-Karabakh conflict".
The conflict between the two South Caucasus countries began in 1988 when Armenia made territorial claims against Azerbaijan. As a result of the ensuing war, in 1992 Armenian armed forces occupied 20 percent of Azerbaijan, including the Nagorno-Karabakh region and seven surrounding districts.
The 1994 ceasefire agreement was followed by peace negotiations. Armenia has not yet implemented four UN Security Council resolutions on withdrawal of its armed forces from the Nagorno-Karabakh and the surrounding districts.