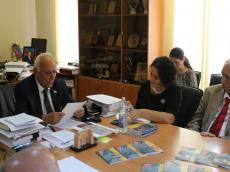 By Azernews
By Rashid Shirinov
Armenian vandals resettled to the Azerbaijani lands, aiming to expel the local Turkic-Muslim population, razed to the ground their religious places of worship, Yagub Mahmudov, Director of the Institute of History of the Azerbaijan National Academy of Sciences (ANAS) said on September 20.
He made the remarks at the presentation of four brochures on the history of the Irevan khanate in Armenian and Persian languages.
The academician noted that the destroyed objects include more than 300 mosques, numerous minarets, as well as tombs, sanctuaries and cemeteries. First of all, the vandals destroyed ancient mosques in Irevan.
Mahmudov further pointed out that many important events reflected in the Kitabi Dede Gorgud epic took place on the territory of the Irevan khanate.
He noted that a Khan's Palace was built in 1578 by the Irevan beylerbey of the Azerbaijan state of Safavids Tohmag Khan, and added that the Armenian vandals destroyed the Khan's Palace and built a brandy factory in its place.
"Today Yerevan officials cannot demonstrate to foreign guests at least one historical monument of over 200 years old belonging to Armenians," Mahmudov said.
The brochures on the history of the Irevan khanate were published by the Azerbaijani Historians Public Association within the project funded by the Council of State Support to NGOs under the President of Azerbaijan. The brochures were previously published in English and Russian, and their publication in Spanish and Arabic is currently being prepared.