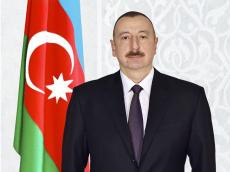 By  Trend
Azerbaijani President Ilham Aliyev has sent a congratulatory letter to Russian President Vladimir Putin.
"Dear Mr. President, I heartily congratulate you and all the people of Russia on the successful holding of the 21st FIFA World Cup," Ilham Aliyev said in his letter.
"The World Cup has become a truly unforgettable sporting event for all fans of this most popular kind of sports. The completed world championship in Russia will rightfully enter the history of championships as an example of ideal organization, preparation and holding of such tournaments, clearly demonstrating the great power of sports that brings peoples closer together, strengthens friendship and cooperation."
"Dear Mr. President, I wish you good health, happiness, further success, and peace and prosperity to all the citizens of Russia," the Azerbaijani president said.