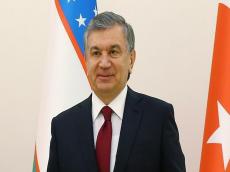 By  Trend
President of Uzbekistan Shavkat Mirziyoyev has praised the successful results of reforms conducted in Azerbaijan as he sent a letter of congratulations to President llham Aliyev on the occasion of the centenary of the Azerbaijan Democratic Republic.
"The successful outcomes of large-scale reforms and transformations confidently carried out under your leadership towards ensuring dynamic development of your country, primarily raising the living standard and quality of the population's life, creating modern industry and infrastructure are praiseworthy," he said in the congratulator message.
He stressed that Uzbekistan, with great pleasure, notes Azerbaijan's ever increasing influence and the strengthening of its positions on the international scene," he said.
"I have to emphasize that we, in Uzbekistan, are determined to further strengthen centuries-old ties of friendship and strategic partnership between our countries and expand the mutually beneficial practical cooperation in all areas of mutual interest. It is about speeding up relations, maintaining active exchanges, increasing the volume of trade, implementing promising projects in the field of industry, energy, transport and high technologies and realizing cultural and humanitarian programs," he said.
The Uzbek leader voiced confidence that the upcoming high-level meetings will enable to bring Uzbekistan-Azerbaijan relations to a qualitatively new level and add a practical dimension to bilateral ties between the two countries.