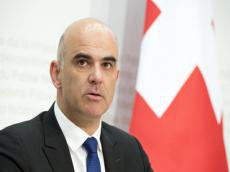 Trend:
President of the Swiss Confederation Alain Berset has sent a congratulatory letter to Azerbaijani President Ilham Aliyev.
"On behalf of the Swiss Federal Council and on my own behalf, I would like to convey my warmest congratulations to you on the occasion of the Republic Day and the centennial of the foundation of the Azerbaijan Democratic Republic on 28 May, 1918," Berset said in his letter.
"I also send my sincerest wishes for the well-being and prosperity of Azerbaijan and the Azerbaijani people. Let me also assure you that I fondly look back on our meeting on the margins of the World Economic Forum in January which testifies to the excellent relations between our two countries."
"I look forward to this relationship of trust and friendship continuing to flourish in the months and years ahead," reads the letter.