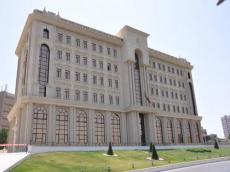 By Azernews
By Sara Israfilbayova
One of the main activities of the State Migration Service is the fight against illegal migration.
"In this regard, the use of modern information technologies should be especially emphasized in organizing the work of the Service. As a result of the work done today, the State Migration Service receives information on the date, year of residence, operation and the date of leaving the country of each foreigner and stateless person through the Integrated Migration Information System," the State Service told Azernews.
The Integrated Migration Information System's activity was ensured in accordance with the order signed by the Azerbaijani President in 2009. The structure includes a subsystem called "Measures and Results Against Illegal Migration".
"The Integrated Migration Information System is committed to creating a full understanding of the dynamics of migration processes in the country, taking measures to combat illegal migration and ensuring security," according to the service.
The State Migration Service also stressed that in order to prevent illegal migration, the Service regularly organizes awareness-raising events, meetings, mobile services in towns and districts of the country, because a foreigner or stateless person who does not know his / her rights can become an illegal migrant.
"During the first quarter of 2018, 12 awareness-raising aids and a videomaterial about the measures against illegal migration were prepared and broadcast on television.
At the same time, the State Migration Service's Office for Migration Control and the regional migration departments have structural divisions to combat illegal migration," the state structure mentioned.
Further, the Migration Service underlined that during 2017 and 4 months of 2018, towards 27,388 persons illegally living in violation of the Code of Administrative Violations and the Migration Code have made relevant decisions.
"After the application of the Law on the termination of inspections of business entities on October 20, 2015, the State Migration Service is unable to determine the exact number of foreigners working illegally," the Service emphasized.
Answering the question on conditions created for foreigners, the Service stressed that according to Article 21 of the Migration Code, foreigners or stateless persons temporarily staying in the Republic of Azerbaijan for more than 10 days must be registered at the place of their residence.
"Another innovation is that since May 17 2018, foreigners will be able to apply to all ASAN service centers operating in the country," the service said.
With regards to the future plans and innovations the State Migration Service said that today, one of the main priorities is to provide modern and flexible governance in the activities of the State Migration Service, increase efficiency and transparency, eliminate the circumstances that create conditions for the corruption and enhance the authority of the law enforcement agency.
In conclusion it was noted that during the past year, 45,305 persons migrated to the country.