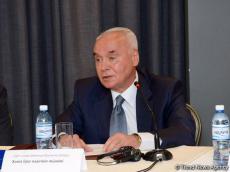 By Azernews
By Rashid Shirinov
The next round of negotiations on the new comprehensive partnership agreement between the European Union (EU) and Azerbaijan will be held in Baku next week, Azerbaijan's Deputy Foreign Minister Mahmud Mammadguliyev told Trend on May 22.
"The negotiations that started last year successfully continue in three main areas: political and security issues, trade and investment issues and various sectoral issues," Mammadguliyev said.
The deputy minister added that political issues will be discussed at the next meeting.
The last round of talks was held in early May.
In November 2016, the European Council adopted a mandate for the European Commission and the High Representative for Foreign Affairs and Security Policy to negotiate, on behalf of the EU and its member states, a comprehensive agreement with Azerbaijan.
The new agreement should replace the 1996 partnership and cooperation agreement and should better take account of the shared objectives and challenges the EU and Azerbaijan face today. The agreement will follow the principles endorsed in the 2015 review of the European Neighborhood Policy and will offer a renewed basis for political dialogue and mutually beneficial cooperation between the EU and Azerbaijan.