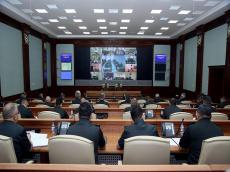 Trend:
The Azerbaijani army is fully ready for large-scale military operations, said the country's Defense Minister Colonel General Zakir Hasanov at the official meeting on May 12.
Based on the remarks made by the Supreme Commander-in-Chief of the Armed Forces on the Nagorno-Karabakh conflict and the military potential of the Azerbaijani army, during the event dedicated to the 95th birth anniversary of the national leader Heydar Aliyev, the defense minister set specific tasks for officials.
Thoroughly analyzing the current situation at the front, the minister ordered to keep under constant control the activities of the enemy on the front line and in deep defense, to be ready for its possible actions and also to take resolute measures to immediately prevent possible provocations by the enemy.
Zakir Hasanov also expressed his opinion regarding the irresponsible statements made by various officials, including the newly elected prime minister of Armenia after the change of power in the country.
The defense minister warned the military and political leadership of Armenia that such actions of the enemy are not acceptable and the Azerbaijani army is fully ready for large-scale military operations.
Colonel-General briefed the managerial personnel about the requirements arising from the order of Azerbaijani President Ilham Aliyev in connection with the organization and holding of high-level celebrations on the occasion of the 100th anniversary of the Armed forces of Azerbaijan and gave appropriate instructions to the responsible persons.