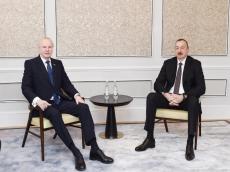 By Trend
Azerbaijan's President Ilham Aliyev has arrived in the United Kingdom of Great Britain and Northern Ireland upon invitation of the UK Prime Minister Theresa May.
In London, President Ilham Aliyev met with BP Chief Executive Officer Robert Dudley.
At the meeting, the sides exchanged views on the work carried out on the Shah Deniz project and launch of the Trans Anatolian Pipeline (TANAP) project this June.
Significance of intensifying the work on the basis of the Production Sharing Agreement on the Shafag-Asiman block of fields was also emphasized.
The sides further expressed satisfaction with the current level of the long-term cooperation between Azerbaijan and BP.