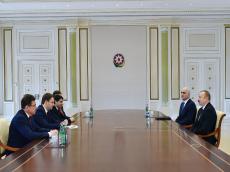 Trend:
Azerbaijan's President Ilham Aliyev received Russian Minister of Economic Development Maxim Oreshkin on April 23.
At the meeting, the sides noted successful development of bilateral relations between the countries in various spheres, including in the economic sphere.
Having assessed the growth of trade turnover last year, as well as the results of the first quarter this year as a good sign of expanding economic ties, President Ilham Aliyev stressed that this is a good indicator of the development of bilateral relations as a whole.
He noted strengthening of economic ties as a result of joint fruitful activity of the two countries, as well as strengthening of cooperation among individual facilities. President Ilham Aliyev expressed confidence in further strengthening of economic ties.
Maxim Oreshkin once again conveyed greetings of Russian President Vladimir Putin to Azerbaijani President Ilham Aliyev in connection with his landslide victory in the presidential election.
Oreshkin noted that the election results are manifestation of the firm support rendered by the Azerbaijani people to the political and economic policy pursued by President Ilham Aliyev and that stability in Azerbaijan is of great importance.
The Russian minister said that only a few months passed since his last visit to Baku, and a number of serious steps were taken in the field of economic cooperation. Maxim Oreshkin noted with satisfaction the joint fruitful work with his Azerbaijani counterparts.
Ilham Aliyev expressed gratitude for the congratulations.
During the conversation, the sides exchanged views on the prospects for cooperation regarding the International North-South Transport Corridor, in the investment, agriculture, tourism and other spheres.