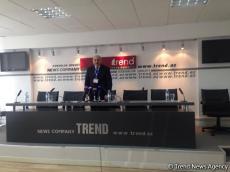 By  Trend:
The presidential election in Azerbaijan was held freely, transparently, fairly, in accordance with national legislation and international standards, Rauf Zeyni, president of the Azerbaijan National NGO Forum, which unites up to 700 non-governmental organizations, said.
Zeyni made the remarks at the press-conference at Trend News Agency in Baku April 14 held in connection with the presidential election.
He added that the results of the presidential election reflect the people's will.
Zeyni stressed that the presidential election in Azerbaijan, having important historical significance in the development of the country and people, was held by the country's Central Election Commission (CEC) at 5,641 polling stations in 125 electoral districts. The embassies and consulates of Azerbaijan created 41 polling stations.
"The election staff was created as an institution of civil society upon the decision of the Azerbaijan National NGO Forum," he said. "More than 600 of its representatives monitored the election throughout the country."
"According to the conclusion of the observation mission of the Azerbaijan National NGO Forum, favorable conditions were created for holding free, democratic, transparent and fair election in the country," he said. "During the monitoring held before the election and on the voting day, the observation mission of the Azerbaijan National NGO Forum did not notice violations of electoral legislation or voters' rights."
He added that Azerbaijan fully guarantees the rights to freedom of assembly, freedom of speech and other rights.
Zeyni added that the CEC installed 1,000 webcams at polling stations and there was an opportunity to observe the election online.
"The voting booths and ballots complied with the requirements of the electoral legislation," he said. "Wheelchair ramps were installed at 1,455 stations and conditions were created for people with disabilities to participate in the election."
Azerbaijan held a presidential election on April 11. The incumbent head of state, Chairman of the New Azerbaijan Party Ilham Aliyev garnered over 86.03 percent of votes in the election, in accordance with the results of processing 99.9 percent of ballots.
On the voting day, 5,426 permanent polling stations and 215 temporary polling stations in 125 constituencies operated in the country. The election was observed by 894 international observers (61 organizations, 59 countries) and 58,175 local observers.