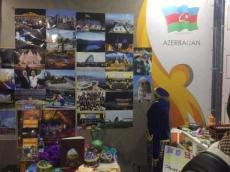 By Azernews
By Rashid Shirinov
The Armenians carried out a new provocation against Azerbaijan, this time at the 19th World Festival of Youth and Students in Sochi, Russia.
During an exhibition held within the festival, the Armenian youth displayed brochures where the Nagorno-Karabakh region of Azerbaijan was presented as the territory of Armenia. Moreover, the brochures contained historical monuments in Nagorno-Karabakh which were also listed as monuments of Armenia.
This caused discontent of the Azerbaijani delegation at the festival and it expressed dissatisfaction to the organizers of the event.
Armenian diaspora often uses international exhibitions to distort the essence of the Nagorno-Karabakh issue and present this region of Azerbaijan as Armenian. However, Azerbaijan timely prevents such provocative attempts.
The conflict between the two South Caucasus countries began in 1988 when Armenia made territorial claims against Azerbaijan. As a result of the ensuing war, in 1992 Armenian armed forces occupied 20 percent of Azerbaijan, including the Nagorno-Karabakh region and seven surrounding districts.
The 1994 ceasefire agreement was followed by peace negotiations. Armenia has not yet implemented four UN Security Council resolutions on withdrawal of its armed forces from the Nagorno-Karabakh and the surrounding regions.
The 19th World Festival of Youth and Students, held under the slogan "For peace, solidarity and social justice, we are fighting against imperialism – respecting our past, we are building our future!", will continue until 22 October.
President of Russia Vladimir Putin spoke at the opening ceremony of the festival, and also Russia's Foreign Minister Sergey Lavrov, officials of the host country and other states have participated in the forums of the festival.
Azerbaijan is represented at the event by a delegation headed by Deputy Minister of Youth and Sports Intigam Babayev. In addition, representatives of the Azerbaijani Youth Organization of Russia, the Ireli Public Association and other youth and student organizations are also attending the festival.