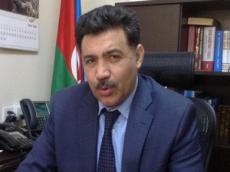 By Azernews
By Rashid Shirinov
Violation of the internationally recognized borders of a country is a serious crime. Four Turkish citizens who illegally visited the Armenian-occupied Azerbaijani territories last month, however, are not punished yet.
The Turkish government should start legal procedures against its citizens who illegally crossed the state border of Azerbaijan, an Azerbaijani MP Aydin Huseynov told Trend on October 14.
He noted that by doing this the Turkish government thereby will warn its citizens wishing to visit Karabakh from committing such unlawful steps.
The MP stressed that the participation of the Turkish citizens at the event, which was held in the occupied Azerbaijani territories, is a disrespect shown for both Azerbaijan and Turkey.
"The visit of Armenian-occupied Azerbaijani territories by a group of Turkish citizens, their participation in the events held there, where they made statements against Azerbaijan, is insulting to Turkey itself," Huseynov said.
The MP further noted that Azerbaijan and Turkey are brotherly states, and Turkey will soon transfer these persons to Azerbaijan.
Being without documents and not getting any consent from relevant executive authorities, four Turks Ufuk Uras, Ali Bayramoglu, Said Cekinoglu and Erol Katircioglu illegally crossed the internationally recognized borders of Azerbaijan on September 22. The Grave Crimes Investigation Department of Azerbaijan's Prosecutor General's Office filed a criminal case under Criminal Code's Article 318.2 (illegally crossing Azerbaijan's state borders) against them.
The Turkish citizens deliberately traveled from territory of Armenia and illegally arrived in occupied Khankendi and other settlements of the occupied territories of Azerbaijan. They have been declared in the international wanted list. Azerbaijan also sent an appeal to the Turkish law enforcement agencies in order to detain the four citizens.
Earlier, Turkish Foreign Ministry said that the illegal visit of the country's citizens to the occupied territories of Azerbaijan does not reflect the official policy of Ankara, and Turkey will continue to support Azerbaijan's fair position on the settlement of the Nagorno-Karabakh conflict.
Baku has repeatedly warned foreign officials and diplomats of illegality of visits to its territories that are occupied by Armenia, calling them contradictory to international law. The work is constantly carried out to prevent such illegal actions.