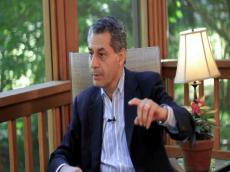 By  Trend
The timing of the military loan approval by Armenia is very suspicious and indicates a lack of will to solve the conflict.
Rob Sobhani, director general of the Caspian Group Holdings, made the remark as he commented on news that the Armenian side has approved the deal with Russia on weapons supply to Armenia through a $200 million deal. The Armenian government approved the first $ 100 million loan package, which will be extended to Armenia for 20 years.
"Instead it shows an attitude of not wanting to solve the problem," he said noting that it appears that the people of Armenia are not being well served by their leaders.
"Armenian academics, who are fair, have mentioned that militarization of their country will not help the prospects for peace," he noted.
Sobhani also commented on upcoming hearings on the Nagorno-Karabakh to be hosted by the U.S.-based Helsinki Commission, stressing that these hearings will hardly impact the peace talks.
"The key to resolving this conflict seems to be in the hands of Russia and until they see a strategic advantage to allow Armenia to sign a peace treaty. Unfortunately I do not believe Moscow will act," he added.
Europe is too immersed in its own internal problems such as ISIS-inspired terrorism as well as challenges from uncontrolled immigration, according to the expert.
"If the resolution of the conflict resulted in a commercial benefit to Europe they would act," Sobhani said further stressing that this EU attitude is shortsighted, because Azerbaijan is a reliable energy partner of Europe and their energy security will be enhanced if the conflict is resolved.
The Helsinki Commission is chaired by Chris Smith, who enjoys close ties with the Armenian lobby in the U.S. Smith was also the initiator of the anti-Azerbaijani bill previously submitted to the U.S. Congress by the Helsinki Commission.
Azerbaijan and Armenia for over two decades have been locked in a conflict, which emerged over Armenia's territorial claims to Azerbaijan. Since the 1990s war, Armenian armed forces have occupied over 20 percent of Azerbaijan's internationally recognized territory, including Nagorno-Karabakh and seven adjacent regions. Although the UN Security Council has adopted four resolutions on Armenian withdrawal from the occupied lands of Azerbaijan, they have not been enforced to this day.