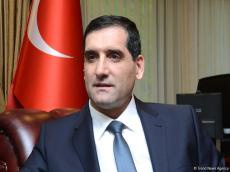 By Azernews
The Nagorno-Karabakh conflict is one of the biggest problems for Azerbaijan just as much as for Turkey, Turkish envoy Erkan Ozoral said on September 15.
He made the remarks at an event dedicated to the 99th anniversary of the liberation of Baku by the Islamic Army of the Caucasus from the Bolshevik-Dashnak occupation.
The ambassador noted that Turkey and Azerbaijan have always been brotherly and friendly countries.  "Turkey has always supported and will support Azerbaijan," he added.
Ozoral said that graves of Turkish soldiers can be found in many parts of Azerbaijan. 
"Preservation of these graves to this day became possible thanks to the Azerbaijani people. Even during the Soviet times, Azerbaijanis preserved these burials as the graves of their relatives and brothers," he noted.
In 1917, after the collapse of the Russian Empire, the Azerbaijani people had a real chance to gain national statehood. However, Armenian chauvinists with the support of the Bolsheviks under different pretexts unleashed a massacre and embarked on interference, threatening the independence of Azerbaijan.
Atrocities, committed by Bolsheviks and Armenians against Azerbaijanis in 1918 forced leaders of the Azerbaijan Democratic Republic to turn to fraternal Turkey. Whereas Turkey was defeated in the WWI, but it did not spare help to its brothers and, therefore, Caucasus Islamic Army of Turkey under the command of Nuru Pasha was sent to Azerbaijan. Thus, on September 15 Turkish troops liberated Baku from the occupation.
Turkey also became the first state to recognize Azerbaijan, which declared its independence in 1991. Turkey contributes to efforts aimed at the resolution of the Nagorno-Karabakh conflict within Azerbaijan's territorial integrity and sovereignty through peaceful means.
Ankara has repeatedly stated that the OSCE Minsk Group needs to intensify the search for solutions to the Nagorno-Karabakh conflict and offered its assistance in this matter.
Ozoral also touched upon joint military exercises of Azerbaijani and Turkish Air Forces titled TurAz Qartal? – 2017. He stressed that these drills show once again that the Azerbaijani-Turkish cooperation is developing also in the military sphere and is at the highest level.
The exercises that will last until September 30 involve up to 30 aircrafts of the Air Forces of Azerbaijan and Turkey, including MiG-29, F-16, Su-25, C-130 Herkules, CASA CN-235 aircrafts, as well as Mi-35, Mi-17 and Sikorsky S-70 helicopters.