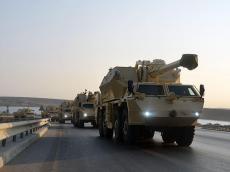 By Rashid Shirinov
Azerbaijan has purchased new artillery guns from the Czech Republic.
The DANA self-propelled artillery guns of the Czech production have been delivered to Azerbaijan and is being used in large-scale exercises involving different branches of Azerbaijani Armed Forces, the Defense Ministry confirmed to Trend on September 18.
First introduced in 1977, DANA systems have a firing range of 19 km, with the upgraded version capable of firing at 25.5 km. The system weighs about 29 tons.  The system offers high manoeuvrability and superior protection for the crew.
The exercises that will last until September 22 involve up to 15,000 military personnel, more than 150 tanks and armored vehicles, up to 120 missiles and artillery systems of different calibers, multiple launch rocket systems and mortars, 20 combat aircrafts for various purposes, as well as new types of electronic warfare assets and unmanned aerial vehicles.
Azerbaijan leaves behind many CIS and regional countries to take its place among the first 58 strongest militaries of the world, according to the U.S.-based Global Firepower survey center.
The skills and combat readiness of the Azerbaijani army are growing year by year, as the country's Armed Forces regularly conduct military exercises. The army building process in Azerbaijan is progressing as well.
The country, which is in war with neighboring Armenia over the latter's groundless territorial claims during more than 20 years, keeps in focus the armament. Azerbaijan creates its own armament and works closely with leading companies and firms in various fields of military industry.