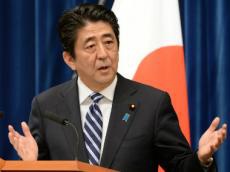 Azerbaijan, having made great strides in the years of independence, is a country, which ensured stable development in the South Caucasus region and which is an important partner of Japan, said Shinzo Abe, Prime Minister of Japan.
Abe made the remark in a letter sent to President of Azerbaijan Ilham Aliyev on the occasion of the 25th anniversary of the establishment of diplomatic relations between Japan and Azerbaijan.
The PM noted that the two countries built very close relations after Azerbaijan restored its independence.
"Mutually beneficial cooperation that is rooted in the relations between our countries developed even more rapidly thanks to President Heydar Aliyev's visit to Japan in 1998 and Your Excellency's visit in 2006. I am very happy with the intensification of intergovernmental dialogue, visits of high-level officials and exchange between parliaments, local self-governing bodies and other large-scale exchanges in recent years," Abe noted in the letter.
The bilateral cooperation is constantly developing not only in the field of energy, but also in other areas of economy with an active involvement of Japanese companies, according to the PM.
He reminded that the 9th session of the Japanese-Azerbaijani Economic Committee was held in Baku this February, and featured negotiations on continuation of cooperation in non-oil sector as Azerbaijan attaches importance to its diversification.
"Moreover, our two countries embarked on initial discussions on an investment agreement this June. Our cooperation in the field of economy is continuously developing based on the Joint Declaration that was announced during Your Excellency's visit to Japan," he said, voicing confident that the cooperation has great potential to develop even further in a number of areas.
"As we celebrate the 25th anniversary of the establishment of our diplomatic relations, I express my confidence that Azerbaijani-Japanese ties will continue to deepen and develop in a variety of areas," Abe said.
Diplomatic relations between Azerbaijan and Japan were established in 1992. A number of important projects are being implemented in Azerbaijan through the financial support of Japan.   
Japan was one of the first countries to support Azerbaijan's forward-looking oil strategy. Today two major Japanese companies Itochu and Impex are involved in the Contract of the Century. Leaders of Japanese business, Mitsubishi, Mitsui, Marubeni, and Sojits are involved in energy and infrastructure projects in the country.
The trade turnover between Azerbaijan and Japan amounted to $22.08 million in January-March of 2017, according to the Azerbaijan's State Customs Committee.