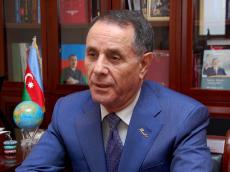 By Azernews
By Rashid Shirinov
The year 2016 showed both the international community and OSCE Minsk Group mediators that a status quo in the Nagorno-Karabakh conflict is dangerous for the peace and development of the region.
Each single exchange of fire, each damage and each human life claimed by the Armenia-Azerbaijan Nagorno-Karabakh conflict has been proving how costly and dangerous the conflict is.
One of the factors complicating the situation regarding the Nagorno-Karabakh conflict is the presence of externally imposed obstacles for Baku's effective activity in this direction, said Azerbaijan's top official.
 Deputy Head of Azerbaijani presidential administration, chief of the administration's foreign relations department Novruz Mammadov made the remark in his article published in "Azerbaijan" newspaper.
"A part of Azerbaijan's territories is occupied by Armenia, and the issues of the process of Nagorno-Karabakh conflict settlement and ensuring of human rights should be considered in interrelation in Azerbaijan's foreign policy," Mammadov stated.
He noted that applying of international norms becomes an integral part of such a major task as ensuring the territorial integrity of Azerbaijan.
"On one hand, Azerbaijan is required to ensure the basic rights and freedoms of its population, and on the other hand, obstacles are imposed for the country's attempts to create favorable international environment for this," the article said.
Mammadov noted that since Azerbaijan gained independence, the country has always witnessed creation of artificial problems.
Armenia captured Nagorno-Karabakh and seven surrounding regions from Azerbaijan in a war that followed the Soviet breakup in 1991. More than 20,000 Azerbaijanis were killed and nearly 1 million were displaced as a result of the war.
Large-scale hostilities ended with a ceasefire agreement in 1994 but Armenia continued the occupation in defiance of four UN Security Council resolutions calling for immediate and unconditional withdrawal.