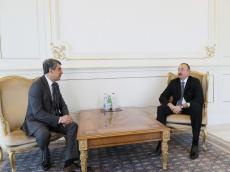 By  Azertac 
President of Azerbaijan Ilham Aliyev received former President of Bulgaria Rosen Plevneliyev in Baku on April 18.
Former Bulgarian President Rosen Plevneliyev said he is always happy to visit to Azerbaijan.
Pointing out his meetings with President Ilham Aliyev, Rosen Plevneliyev emphasized their signing the document on strategic partnership between the two countries.
Rosen Plevneliyev noted that President Ilham Aliyev's far-sighted policy contributed to the implementation of Southern Gas Corridor project.
President Ilham Aliyev recalled his visit to Bulgaria and his meetings with the Bulgarian President, hailing the excellent relations between the two countries. He expressed his confidence that fruitful cooperation between Azerbaijan and Bulgaria will further develop.