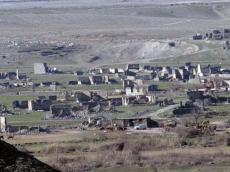 By Azernews
By Rashid Shirinov
The OSCE Minsk Group co-chair states – Russia, France and the United States – announced that they will not recognize the so-called "constitutional referendum" scheduled for February 20 in the occupied Nagorno-Karabakh region of Azerbaijan, which is now ruled by a puppet regime controlled by Armenia.
The Russian Foreign Ministry stated that it does not believe that the peaceful settlement of Nagorno-Karabakh may depend on the planned "constitutional referendum" in the region.
"We do not recognize Nagorno-Karabakh as an independent state," TASS reported citing a message of the Russian Foreign Ministry.
"We proceed from the fact that its status must be determined through political negotiations as part of the Minsk process. Along with this, we do not believe that peaceful settlement could depend on holding the "constitutional referendum."
French Ambassador to Baku Aurelia Bouchez, also commenting on the so-called "constitutional referendum", reaffirmed that France does not recognize Nagorno-Karabakh as an independent state. "This is our well-known position," she said in Baku on February 17.
"The U.S. does not recognize the independence of Nagorno-Karabakh, as well as no other country in the world," U.S. Ambassador to Azerbaijan Robert Cekuta told reporters on February 17.
"As stated in the latest statement of the OSCE Minsk Group, neither the U.S. nor Azerbaijan nor Armenia recognizes the independence of Nagorno Karabakh," said Cekuta.
Baku has previously stated that the illegal "referendum" constitutes a clear violation of the Constitution of Azerbaijan and the norms and principles of international law, and, therefore, has no legal effect.
The illegal regime established by Armenia in the temporarily occupied territories of Azerbaijan is ultimately nothing other than the product of aggression and occupation, the ministry said.
Armenia broke out a lengthy war against Azerbaijan laying territorial claims on its South Caucasus neighbor. Since a war in the early 1990s, Armenian armed forces have occupied 20 percent of Azerbaijan's territory, including Nagorno-Karabakh and seven surrounding regions. More than 20,000 Azerbaijanis were killed and over 1 million were displaced as a result of the large-scale hostilities.
Armenia has not yet implemented four UN Security Council resolutions on withdrawal of its armed forces from the Nagorno-Karabakh and surrounding districts.