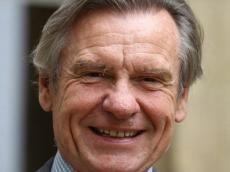 The member of the French National Assembly Jean-François Mancel addressed a request to the Foreign Minister of the country, Laurent Fabius in connection with violation of the ceasefire on the contact line between Azerbaijani and Armenian troops, 'The European Azerbaijan Society' told Trend Aug. 15.
The request was sent after a trilateral meeting of the Azerbaijani, Russian and Armenian presidents in Sochi Aug. 10.
In his request, Mancel recalled that France, along with Russia and the United States, is one of the OSCE Minsk Group co-chairing countries, involved in the Nagorno-Karabakh conflict settlement.
"I asked the question about the position of the French government in this regard and the actions planned to be made to speed up the conflict settlement process, as Azerbaijani President Ilham Aliyev stressed, as part of the international law and justice, peacefully and through negotiations," he added.
Mancel is a member of the France-Azerbaijan Friendship Group of the National Assembly. He is also the president of the newly established Society of Friends of Azerbaijan.
The conflict between the two South Caucasus countries began in 1988 when Armenia made territorial claims against Azerbaijan. As a result of the ensuing war, in 1992 Armenian armed forces occupied 20 percent of Azerbaijan, including the Nagorno-Karabakh region and seven surrounding districts.
The two countries signed a ceasefire agreement in 1994. The co-chairs of the OSCE Minsk Group, Russia, France and the U.S. are currently holding peace negotiations.
Armenia has not yet implemented the U.N. Security Council's four resolutions on the liberation of the Nagorno-Karabakh and the surrounding regions.

/Trend/