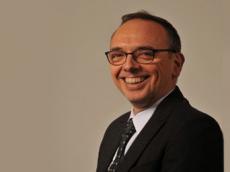 Day.Az
interviewed
Roberto Bonino
, President, «Futura21» (Switzerland, Baku Humanitarian Forum participants


-What do you think about Azerbaijan and its future?
Azerbaijan has been blessed with rich natural resources and has a therefore received a heavy responsibility to build a strong, democratic and peaceful society that can be a reference for its geopolitical region and beyond. Its multicultural society, traditional tolerance, history and central geographic location at the crossroad of many civilizations all concur to enrich the development perspective. The challenge will be to maintain the traditional and social values in a sustainable development model.
- Baku Humanitarian Forum paves the way to present rich traditions of Azerbaijan's multiculturalism to the participants. How would you appreciate Azerbaijan as a bridge between Eastern and Western civilizations?
Every time I have a chance to visit Azerbaijan, I am amazed at how Western and Eastern values coexist and reinforce each other in the country. Azerbaijan should strive not to make a one way choice between West and East, but to develop western values of democracy, tolerance and social equality while remaining faithful to its origins and play a role as a link between countries and cultures. The choice of strengthening the ties with the western world is a challenging one and Europe would be well advised to increment its efforts to support a relationship that should go beyond a common energy agenda.

-What is Azerbaijan for Europe?
At the moment Europe's focus is on the strategic role Azerbaijan plays as friendly supplier of oil and gas: facilitating and increasing the energy supply from Azerbaijan to Europe is clearly a major common interest. As the Azeri economy keeps developing at a high rate, fueled by energy exports, it will become a more global partner attracting broader investments and technology transfers. With its multicultural society and rich history, Azerbaijan has a wonderful chance to play a pivoting role in the often-unsettling East-West relationships providing a privileged communication channel towards the east and the Muslim world.
-What can you say about cooperation of our two countries?
The cooperation should expand beyond the energy sector. Europe should strengthen its efforts to facilitate the resolution of the conflicts with Armenia, which, as demonstrated by the recent escalation, is a constant threat to stability in the region. A pacified region would offer unequalled opportunities for investment and collaboration.
A specific area where Europe can contribute is education. As Azerbaijan's economy grows on oil revenue, the country must plan the transition towards a knowledge-based society and Education will play a key role. At futura21 we are particularly interested in everything related to the development of Human Capital: how it is created through education, formal or on the job, how it is employed and developed in the corporate world, and how it can be enhanced through the creation of a positive and fulfilling work environment. Azerbaijan has a unique opportunity to turn Oil, the fuel of the traditional economy, into Human Capital, the fuel of the knowledge economy, and Europe can be a key partner in this process.
-Armenian leadership says that Armenians and Azerbaijanis by their nature can't coexist at the same region. Anyway, how to make people overcome mutual hate before the conflict sides after more than two decades of war and conflict?
I am not personally familiar with the statements of the parties involved in the conflict, but the debate between segregation versus integration of populations that have been involved in long-term conflicts is very common. The Israeli-Palestinian or the Balkan conflicts, there are numerous examples where separation has emerged as the only chance for a peaceful coexistence.
On the other hand, Europe itself is a brilliant example of countries that emerged from the most dreadful conflict to decide to move together towards peaceful integration. The magic probably can come only from the clear identification of common social, political and economic interests that help overcome the differences.
-Switzerland is a chairman country in OSCE. What a receipt as a neutral peaceful country Switzerland can provide to Azerbaijan and Armenia to bring the mutual conflict to an end?
Switzerland has a long-standing tradition of neutrality that raised from a very conflictual geo-political environment several centuries ago. It demonstrates that the ability of putting conflict aside can be a powerful stimulus for stability and development. Mutual respect, tolerance of differences, the search of consensus and a clear definition and separation of local and general interest are key ingredients for Swiss stability.